Search Photos From Full Screen Background Images
If you often times have trouble finding inspiration for your site's background images, you might find yourself browsing stock photo sites to get your images. That can be a great source for images because often times the photos can be free and are usually great quality. Those photos can give an instant boost to your site's aesthetics.
Unfortunately, it's a bit of a hassle to browse the stock photo site and find an image you like. Once you find one, you have to download it in the right size, upload to your site, and add it as a background image.
There are so many steps for such a simple process! To help you with this, we've integrated Full Screen Background Images with the popular Instant Images WordPress plugin. Instant Images creates a seamless integration with Unsplash, a free stock photo site with hundreds of thousands of beautiful photos to choose from.
How Does Instant Images Work?
When you have Instant Images installed on your site, it allows you to easily search for just the right picture on Unsplash.com without the need to leave your site. Selecting the picture in the plugin's menu causes the photo you choose to be downloaded to your site's media library instantly. No need to download the photo, resize it on your computer, then upload to your site.
Words can only tell you so much. It's probably easier to just watch how easy it is: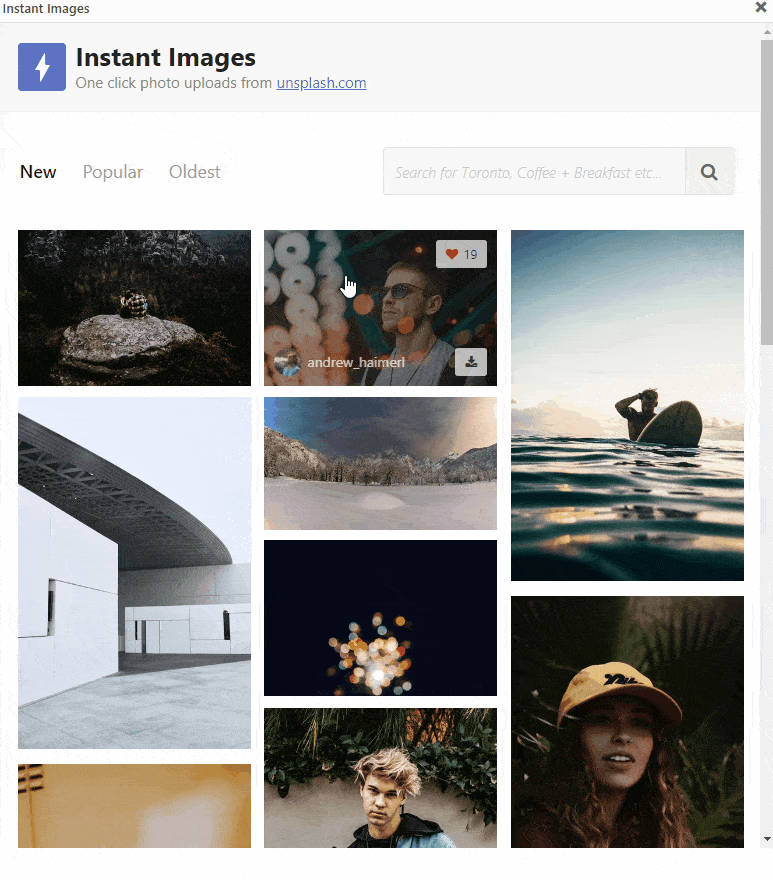 How Does Full Screen Background Images Integrate Integrate With Instant Images?
As you can see, finding photos to add to your media library is really quick with Instant Images. Once the photo has been added to your media library, you just add it as a background image the way you always do.
To make things easier for you, we've included the Instant Images button on the Add New and Edit Image screens (Appearance > Fullscreen BG Image), as well as in the post edit screen.
In order to be able to use this feature you'll have to install the free Instant Images WordPress plugin on your site. Full Screen Background Images will detect that Instant Images is present, and will enable you to search from photos easily from the settings page.
Here is an example of how the two plugins will work together: